5 mistakes to avoid when designing a modular kitchen
To err is human. But some mistakes can cost us a lot. Every year, Indian homemakers spend approximately one month cooking food while visiting the kitchen more than 3000 times.
Now that's a place where you don't want to mess up or imagine having to struggle 3000 times a year just because of that one mistake.
We at Skyler, the largest manufacturer of modular kitchens in Chhattisgarh, have a top-down view of the modular kitchen space. So we have carefully curated a list of mistakes that can shatter your dream of building the best modular kitchen in Raipur.
Let's take a look at each one of them.
1. Wrong layout
The first step to designing a kitchen is deciding the layout. You need to consider the flow of traffic in the kitchen and ensure that there's enough space for people to move around comfortably.
Where people go wrong is they try to incorporate either their desired layout or trending layout style into their kitchen without considering the traffic flow and the available floor space.
While a U-shape kitchen with an island may be tempting, it may be the worst choice for your kitchen. You may end up having a kitchen that feels cramped and cluttered.
You must strike a balance between your desires, the latest trends and the available floor space.
2. Inadequate lighting
The other mistake homeowners make while building a modular kitchen is underestimating the importance of lighting. They often pay too much attention to the aesthetics of lighting fixtures but completely overlook the functionality of those lights.
The kitchen should be perfectly lit, so that food preparation is easy and efficient. A poorly lit kitchen tends to attract more dirt and germs and becomes unhygienic over time.
At Skyler, we pay attention to the positioning of these fixtures, so they maximise efficiency and help you build the best modular kitchen in Raipur.
3. Ignoring storage
Your kitchen should be eye-pleasing, but functionally it is just as good as its storage. Surprisingly people don't consider what type and how many modular racks and cabinets they require. Instead, all the attention is given to how the cabinets look. Although visual appeal is essential, you should avoid overlooking functionality.
If you're a family of 3, you won't need as much storage as a family of 7. This clarity of storage needed should influence your cabinet choices.
Often people get incompatible cabinets installed in corner/joint and under-the-sink areas. This leads to areas not being utilised to the fullest and a waste of potential storage.
Our expert designing guides at Skyler first try to gauge an understanding of the client's storage needs and recommend designs and cabinets accordingly. They strive to make the best modular kitchen in Raipur for you.
4. Inconsiderate of Appliances
Currently, you might just be using an oven. But in future, you may also use a microwave. In such cases, opting for a fixed microwave oven is very convenient.
Imagine you're all drained at the end of the day, done with your dinner and just want to crash on the bed. But you can't leave the counter cluttered and messy. You'll have to clean the mess and still have the old oven and the new microwave lying on the counter that needs to be put in their place. Or if you choose to place them on the counter, they end up taking valuable counter space that could have been put to better use.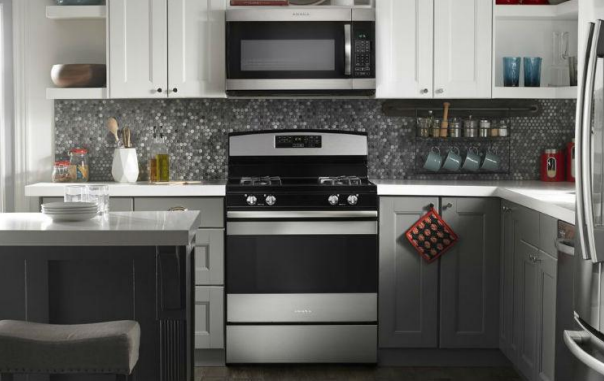 These fixed microwave ovens give the kitchen a premium and sleek look. We at Skyler believe in luxury and have a comprehensive collection of premium modular kitchen accessories. #SwitchToSkyler to design a premium modular kitchen in Raipur with us.
5. Overlooking Functionality and Ergonomics
Another common mistake is that people completely ignore ergonomics and functionality. When designing a kitchen, you should particularly pay attention to design elements such as the height of the counter and the width. You should ask yourself what height would be best for you to work on it and be more comfortable.
You should design to place different kitchen elements, such as the refrigerator, stove, sink and all the others, so that you can work efficiently.
If you don't consider these things, you'll likely end up with a kitchen that's difficult to use and doesn't function as optimally as it could.
Conclusion
Your kitchen should definitely look beautiful, but in the end, it is your kitchen. It should be a delightful experience for you to cook in it. So avoid the above-mentioned mistakes and save yourself from having a nightmarish experience while cooking.
By now, we hope you are convinced why you should not try to do everything on your own. Working with a modular kitchen expert will undoubtedly save time and money.
Our expertise stems from industry know-how. Skyler is Chhattisgarh's leading modular kitchen manufacturer with a strong foothold in the retail space. Hence, #SwitchToSkyler to build the best modular kitchen in Raipur that is aesthetically pleasing and functionally optimum.
GET QUOTE