5 Factors influencing the cost of wardrobe
Does it happen to you that sometimes it gets tricky to wrap your head around wardrobe prices? Many people face this dilemma when they visit our store to check our collection and compare it to wardrobe prices in Raipur. This is so because many factors affect the price of a wardrobe, and you might be unaware of them. It's not as straightforward as if the size of wardrobe A is bigger than B, so A should be more expensive. There are many other factors.
We at Skyler decided to make a comprehensive yet easy-to-understand guide on what really affects the price of wardrobes..
Following is a list of factors that affect the price of a wardrobe -
1. Size
First things first, the size of your wardrobe is crucial to determine its cost. The greater the size of your wardrobe, the more materials will be used up. It's simple maths.
2. Fitted or freestanding wardrobe
You should consider and make up your mind about whether you'd like to have a fitted wardrobe, i.e. fixed and fitted from ceiling to floor or a free-standing wardrobe, i.e. not fixed and not stretching up to the ceiling.
Both have their own sets of pros and cons and differ in price a lot. The best part about fitted wardrobes is that they can be customised and end up being the most optimal use of your precious floor space.
The best part about a free-standing wardrobe is its mobility. You can shift it from room A to room B or sell it and replace it with a new one. But the empty space above such wardrobes ends up being largely unutilised.
Because of the add-ons you can avail of by having a fixed wardrobe, they are considerably more expensive than free-standing ones.
By visiting our store, you can check out our range of free-standing wardrobes and models of fitted wardrobes and the respective wardrobe price in Raipur.
3. Hinged or sliding door
Hinged doors are the traditional ones you pull to open, and the doors protrude out. When installing, one needs to take into account these door sizes as you have to leave the required floor space empty.
On the other hand, sliding doors are the ones that slide to open. As a result, they efficiently save floor space and look sleek and contemporary.
Sliding door wardrobes have many benefits over hinged ones, so they are also much more expensive than their counterparts.
You can't visualise all the benefits these sliding door wardrobes provide. To get an accurate understanding, you need to experience it yourself. You can do the same by visiting our store, exploring our collection and inquiring about quality and wardrobe prices in Raipur.
4. Material
The wardrobe is arguably the most essential of all furniture, and you are going to store your favourite belongings in it for years to come. So, you should not compromise on the quality of the materials used.
The best material for the inside of your wardrobe, hands down, has to be plywood. It is simply the most durable and premium material. If there are budget constraints and you want to cut costs, then you can go for MDF (Medium-density fibreboard).
Take it as a rule of thumb to never use particle board. Even though using it will significantly run down costs, that simply isn't worth it because it is not a durable material and will wear down really fast. They can't take heavy loads, and exposure to moisture can make them go out of shape. Simply put, they have a very short life.
Being manufacturers, we ensure there's a thorough quality check of all the products we make. To know more about the difference in the price of materials mentioned, you can ask for a quotation of the wardrobe price in the Raipur store.
5. Customisation
You can choose the handles of your choice. You can pick a finish for the doors from options like matte, acrylic, PU or have mirrors on the doors. You can even select if you want plain or louvred doors like in the picture below.
You get to personalise your wardrobe by having accessories like drawers and cabinets installed according to your needs. Maybe you need a huge hanging space for those long dresses or coats. Well, it's all in your control.
You can indulge in luxury and add accessories like pull-out hangers (Picture 1) or shoe pull-out racks (picture 2) that elevate the whole experience.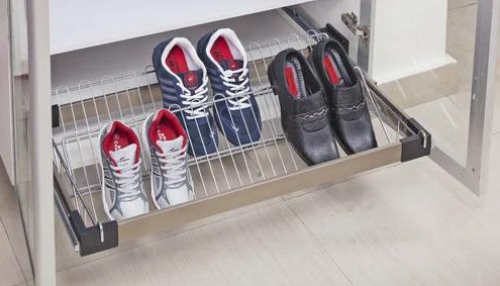 At Skyler, we believe in luxury and have developed a comprehensive range of premium wardrobe accessories. You can check out our premium range and even inquire about our wardrobe price in Raipur by visiting our store.
Conclusion
So now you have acquired much more information about these different factors that together affect the price of a wardrobe and a clear understanding that though size is an important element in determining the price of your wardrobe, it is not the only influencer.
As stated in the blog, you should first and foremost consider the quality of materials. Inferior quality wardrobes will ruin your day-to-day experience of using this essential piece of furniture and deprive you of the luxury it should actually deliver.
Being manufacturers, we at Skyler have a bird's eye view of the wardrobe space. So switch to Skyler and give us a chance to provide you with the best quality wardrobe with expert assistance that ensures you avoid any mistakes and help you customise the wardrobe best suited for you. Visit our store to explore our collection and inquire about wardrobe price in Raipur.
GET QUOTE