5 Compelling Reasons to Consider a Modular Kitchen Upgrade in 2023
2023 is here, with the perfect time to leave behind the past. If you're thinking of starting the New Year with a brand-new kitchen, you should consider upgrading to a modular kitchen.
Modular kitchens look elegant and contemporary. They not only offer a visual treat but make it efficient for you to cook your meals. Their functionality is sure to make cooking a breeze.
In this blog, we will discuss 5 reasons you should upgrade to a modular kitchen if you're looking to build the best modular kitchen in Raipur.
Let's dig in and explore the benefits of modular kitchens!
Tension-free installation
Imagine the constant noise of a saw cutting wood and drilling, dust and wood particles in the air, covering the floor, carpenters, moving in and out all day - what a headache!
Additionally, if you're remodelling or renovating, you'll have to make way with your kitchen for a very long time. You'll have to make another room as your temporary kitchen and cook with so much disturbance.
You also have to constantly monitor the carpenters to ensure you get the most out of your investment.
It takes less than a week to assemble a modular kitchen. Most components are pre-fabricated. The professionals just need to use smart tools to assemble them. Now that's an experience you would need when building a premium modular kitchen in Raipur.
Hassle-free storage
Storage in traditional kitchens has always been frustrating. The cabinets are gimmicks as they lack functionality. You stuff the cabinets and accessing less frequently used items gets tricky, and the corner racks often go underutilised.
Modular kitchens offer an efficient and organised storage solution. The drawers pull out, making it easy to find what you're looking for. The various cabinet structures allow for meticulous organisation, with dedicated spaces for different types of dishes and utensils. Additionally, the corner spaces can be utilised with specialised cabinets, making the most of every inch of space.
Skyler manufactures customised and innovative storage solutions for various cabinet placements so you can truly build the best modular kitchen in Raipur.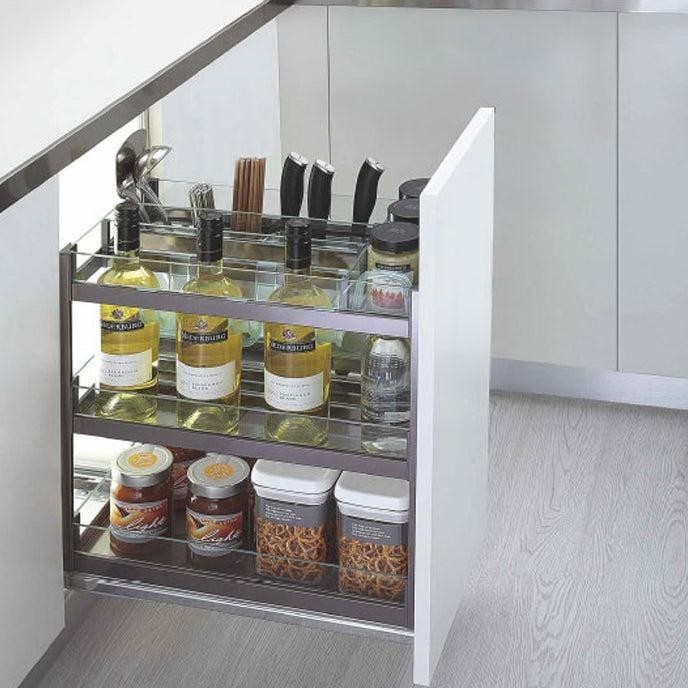 [Most widely used cabinets]
[Best corner cabinets to build the best modular kitchen in Raipur]
[Premium pantry cabinets for premium modular kitchen in Raipur]
Non-disruptive maintenance & repair
Cleaning a traditional kitchen can be a real headache. But with a modular kitchen, the process is so much more convenient. The racks are collapsible, so you can easily take them out, clean them thoroughly, and then dry them under the sun in a few minutes. And if something needs to be repaired, the professionals can simply dismantle the affected rack and work on it in another room without disrupting your cooking.
We send professionals for customer support within a couple of hours to fix any problems with your kitchen. We ensure the best support for the best modular kitchens in Raipur.
Ease of remodelling and shifting
If you're tired of how your kitchen looks and want a fresh look, you can easily change the front wood of your cabinets. You can also make other adjustments, such as replacing a mug stand rack with two cutlery racks, without the hassle of drilling and construction.Modular kitchens being collapsible makes it easy to move them to a new home. When you're relocating, you can easily dismantle the cabinets and take them with you to be installed in your new home. This way, you can have the same lovely kitchen without buying new cabinets.
People are largely unaware of this fact, and we have helped many customers who were pleasantly surprised to find out that their investment in a premium modular kitchen in Raipur was not a sunk cost when they decided to move.
Cost efficient
Since these cabinets are factory manufactured, the quality and finishing are top-tier. While the initial cost of a modular kitchen may be higher compared to traditional carpenter estimates, they are much more cost-efficient in the long run.
When you factor in the maximised storage, ease of operation, ease of repair and maintenance, and the fact that they can be moved to a new house, modular kitchens are definitely worth the investment.
Skyler provides a 10-year warranty to our valued customer family. We make sure you are getting top-class after-sales support so that you can #SwitchToSkyler when considering building the best modular kitchen in Raipur.
Conclusion
A modular kitchen allows you to focus on the joys of cooking, leaving behind unnecessary problems. With maximised storage and a sleek, modern design, a modular kitchen can enhance the cooking experience.
Skyler, being the leading modular kitchen manufacturer in Chhattisgarh, offers a wide range of cabinets and finishes to ensure the best quality and top-tier customer support. We would be happy to guide you on your journey to building the best modular kitchen in Raipur. So simply visit our store and let us help you create the kitchen of your dreams.
GET QUOTE